Autel Robotics and DroneSense Partner for Public Safety UAS Ops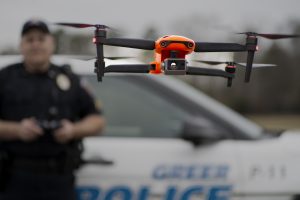 Autel EVO series drones, including the EVO II Dual, are now supported by DroneSense, a software platform designed for use in public safety applications.
The partnership gives agencies the tools necessary to manage UAS programs and coordinate flight operations, according to a news release.
Designed for use in police and fire applications, the EVO II Dual features a 30-second deployment time, high optical resolution and a secure data policy. The drone can help public safety personnel recognize people and objects in zero-light environments through smoke and fog. It has a 40-minute flight time, a picture-in-picture display with an 8K resolution RGB camera, high-resolution thermal imaging and 4X lossless zoom capability.
"We saw an increased interest from our public safety customers in the Autel EVO Series, so our engineering team evaluated the aircraft and was impressed with its features and performance," DroneSense CEO Chris Eyhorn said, according to the release. "With our new integration, we are able to offer an advanced hardware option that will facilitate more successful UAS missions for our public safety customers."
The post Autel Robotics and DroneSense Partner for Public Safety UAS Ops appeared first on Inside Unmanned Systems.