PABLO AIR Completes Simultaneous Delivery With Two Drones in Korea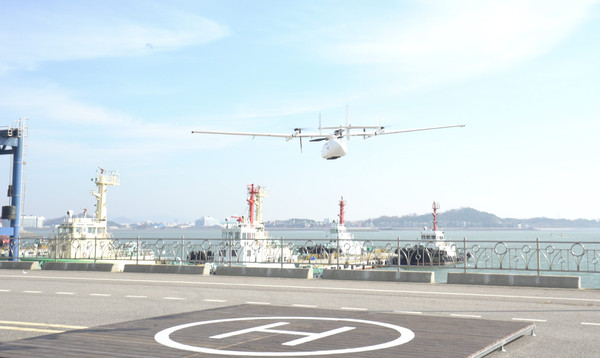 UAS software and hardware developer PABLO AIR recently shipped medical supplies from mainland Korea to two islands with two drones—at the same time.
The VTOL UAS traveled through high winds from Incheon New Port to Yeongheungdo Island and Jawoldo Island in an hour and 20 minutes, according to a news release. The 50-mile roundtrip journeys marked the longest UAS flights in Korea to date. The drones were operated with an independently developed, web-based control system instead of the existing CS (Client-Server) control system.
Both drones were monitored during the flights in real-time through LTE, satellite and RF wireless technologies. With this system, flights could be constantly monitored with a computer, tablet PC or mobile phone.
The flights were part of the robot delivery project funded by Incheon Metropolitan City and Incheon Technopark.
"Drone technology will create significant added value in the future of delivery shipping and bring greater convenience for users," PABLO AIR President Kim Young-jun said, according to the release. "The era of drone-shipped deliveries is fast approaching, which means we have to concentrate not only on developing safer, more precise technologies but also on entering foreign markets in 2021, using our unparalleled skill set. We will be collaborating with a variety of distribution companies worldwide in the coming years."
The post PABLO AIR Completes Simultaneous Delivery With Two Drones in Korea appeared first on Inside Unmanned Systems.